Smart India Hackathon 2019
MIET Student Team Wins Rs. One Lakh Prize at Smart India Hackathon.
A team of student developers from the Computer Science and Engineering Department at the Model Institute of Engineering and Technology (MIET) won a cash prize of Rs. One Lakh at the Smart India Hackathon (SIH) project competition at IIT-Kanpur. Smart India Hackathon is India's largest project competition managed by the All India Council for Technical Education (AICTE) and includes real-world problem statements provided by Govt. Departments and Industries. The team from MIET comprised Kushagar Mahajan, Mohit Gupta, Rohini Sharma, Tushar Nagar from 2 nd Year CSE and Tauseef Ahmed from 1st year CSE along with Danish Soma (2 nd Year, IT). The student team from MIET emerged victorious among 32 finalist teams at IIT- Kanpur.
Prof. Ankur Gupta, Director MIET congratulated the students on their stupendous achievement at the national-level and hoped that the success of these students shall inspire all students to push the boundaries of innovation. The student team was mentored by faculty experts including Dr. Sahil Sawhney, Rishi Gupta and Purnendu Prabhat at the Center for Research, Innovation and Entrepreneurship (CRIE), an initiative to promote student innovation at MIET.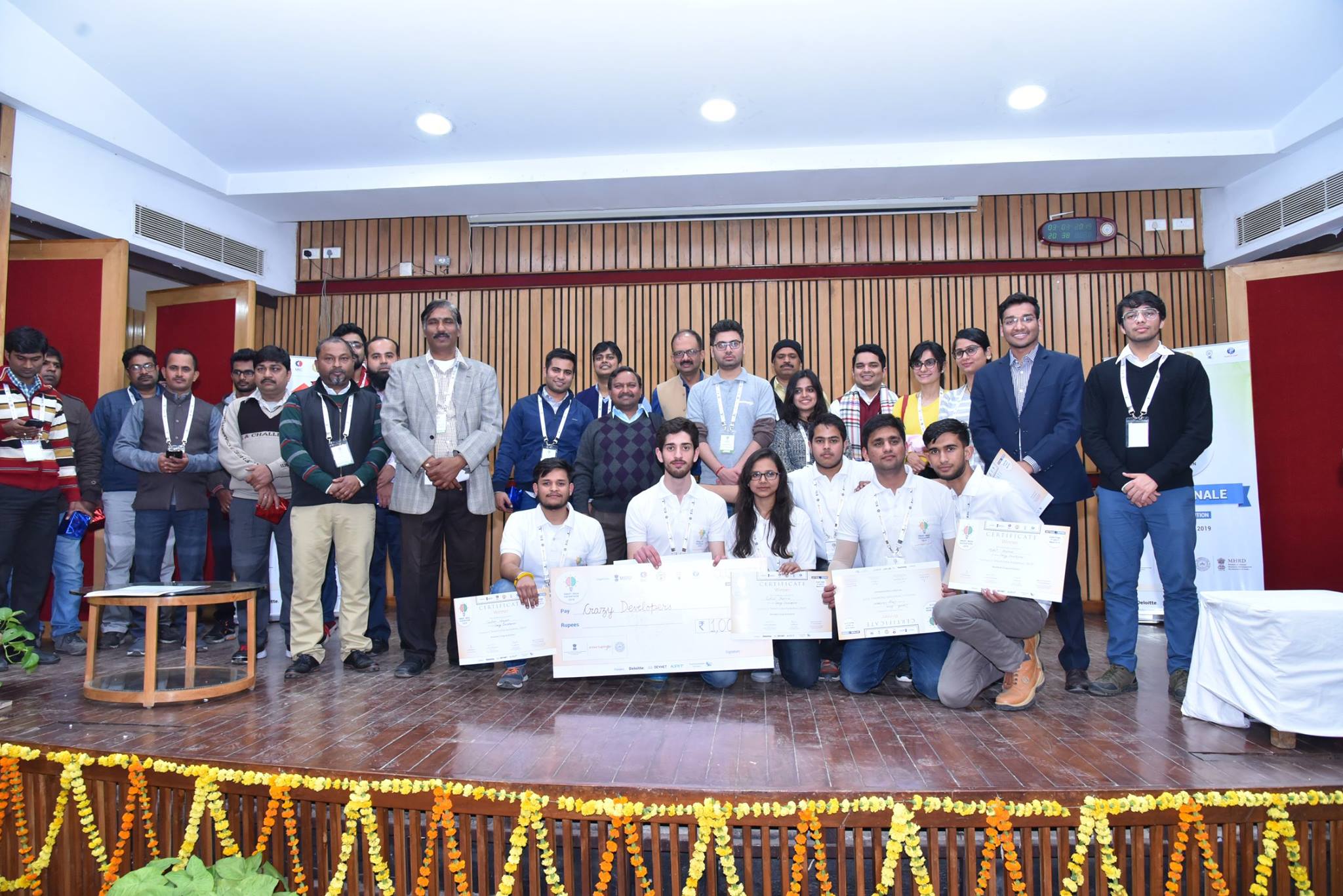 MIET Students Win Big at India Innovation Competition
Two students of final-year Computer Science and Engineering, Sumant Pangotra and Suave Bajaj, brought laurels to the institute and the State of J&K by winning three awards at the 9thIndia Innovation Initiative, a national-level innovation competition organized by the All India Council for Technical Education (AICTE), Department of Science and Technology (DST) and Confederation of Indian Industries (CII). The team from MIET emerged winners in the two-stage competition, first finishing in the top 10 in North-India at Chandigarh and then finally emerging winners at the all-India level in a competition which was open to over 10,000 technical colleges in the country. Sumant and Suave received the AICTE Most Promising Student Innovator Award with the cash prize of Rs. Forty Thousand, I3-KLU-CIIE Best Student Innovator Award and the SIDBI Incubation and Mentorship Award. The MIET team finished on the podium among the 40 finalists who had been selected on all India level for the finals of the innovation competition at Delhi.
MIET student Prince Sumberia makes India proud by winning the 1st ICDL ASIA Digital Challenge in Singapore
Mr. Prince Sumberia, third-year Computer Science Engineering student from Model Institute of Engineering and Technology kept the Indian flag high by winning the 1st ever Asia Digital Challenge Competition organized by International Computer Driving Licence (ICDL) held in Singapore from 19th -20th July. Prince overpowered 13 other finalists from 7 Asian countries including Singapore, Vietnam, Thailand, Taiwan, Philippines, Bhutan, and India to clinch the championship. The 14 finalists, two from each country, were shortlisted through the national level Digital Challenge competition held at each of these seven Asian countries.
MIET's Student shortlisted by Google for the Android (ACS) facilitator program
Sumant Pangotra, final year student from Computer Science Engineering Department, MIET received the unique distinction of being shortlisted by Google for the prestigious Applied CS for Android (ACS) facilitator program aimed at improving the Android app development at the institutional level. Under this program, Sumant was invited by Google to attend two-day boot camp at their Bengaluru office to understand the role and responsibility of the facilitator program.

3 Teams from MIET represented J&K in Smart India Hackathon - 2k18
Three teams from MIET comprising 18 students represented J&K in Bengaluru and Guwahati in pursuit of developing a software solution for Ministry of Defence and Ministry of Ministry of Tribal Affairs during a 36-hour hackathon. The selection to SmartIndiaHackathon was made on the basis of a proposal were sent to respective Ministries two months back. The students were further mentored, trained and exposed to different technologies in the college to the help them meet the software requirements of respective Ministries.
Students of MIET School of Management emerges the winner in the 3rd International Business Plan Competition - 2k18
The duo of Ashima and Reetika Thakur, final year students from MIET School of Management bagged the first prize of Rs 10,000 and a trophy in the third International Business Plan Competition held at University of Jammu. The theme of the event was "Think Big" and the team from MIET presented their innovative proposed product "Green Light" which was widely appreciated by the panelist and audience. The Business Plan competition was organized jointly by International Center for Cross-Cultural Research and Human Resource Management and J&K Startup Community. In total 15 teams from different business schools participated in the event including teams from Daffodil International University, Dhaka, The Business School University of Jammu, Central University Jammu, Central University Kashmir and Business School, Kashmir University.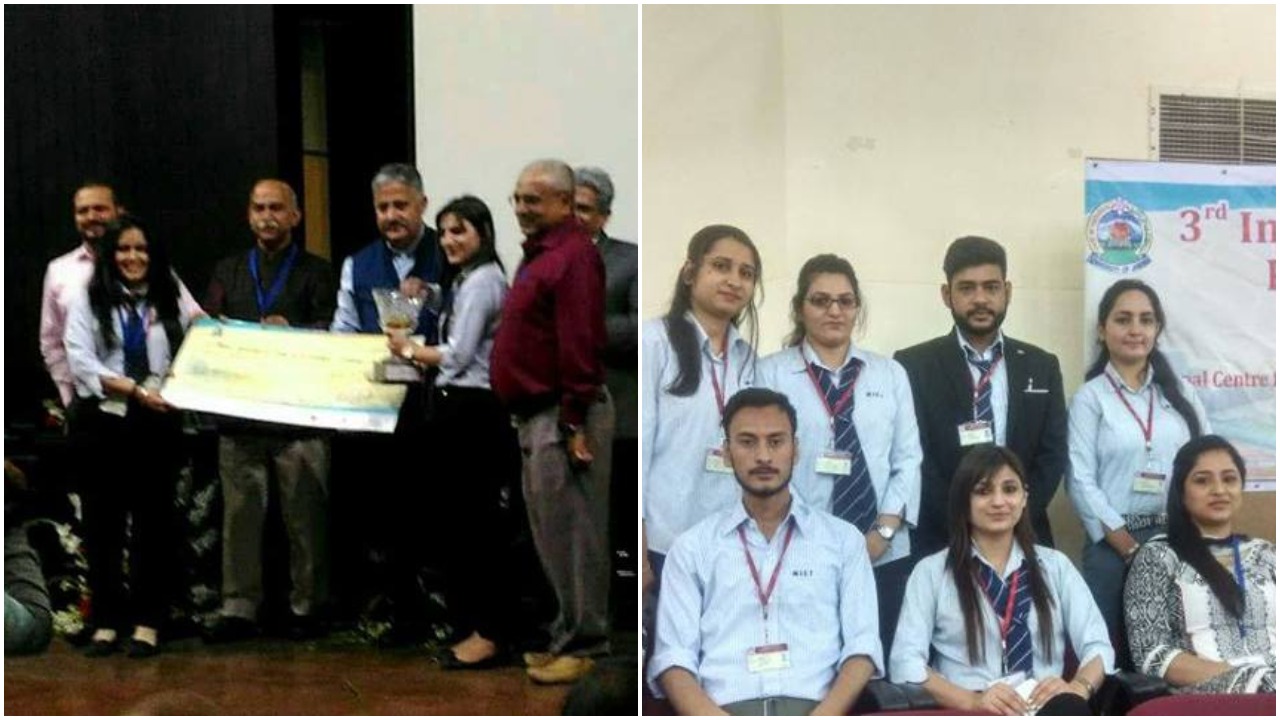 The new singing sensation from MIET
She has recently recorded a track under renowned soundtrack "Speed Records".The track "Ranjhana" (Music and Lyrics by Ar-Deep) has received the stupendous response on YouTube and has garnered more than 1,50,000 views within a week of its launch. We are talking about none other than Rockstar Ishika from IT department, who is all set to record her first video track under a renowned label.
Video Link: https://youtu.be/ioaIkde8dHs
MIET's Fencing Team brings Gold Medal
MIET fencing team extended its dominance in inter-college championship held at the University of Jammu. Adirath Kesar (7th Semester, Electrical Engineering Department) and Aanish Kumar (1st Semester, Computer Science Engineering) were clinical in their performance and brought laurels to the institution by winning the Gold medal in the Foil and Sabre category. The four-member team comprising Adirath, Aansih, Vanshit and Aryan fought it hard to win the Bronze medal in foil and saber team category.
Based on their outstanding performance Adirath and Aansih are selected to represent the University of Jammu in the Inter-University fencing championship to be held at the Kannaur University, Kerala.
MIET School of Management won the first prize in 'Chajja Sajavat' Competition
Nitsimran Kour and Niyati Kapoor both final year students from School of Management won the first prize in'Chajja Sajavat' for their wonderful piece of the art piece (Attached in the photograph) in the recently concluded annual event Rangasutra organized by University of Jammu. The students received the prize from Prof. R.D Sharma, Vice Chancellor, the University of Jammu and Chef Manjit Singh Gill, Corporate Chef, ITC Hotels.