---
From the academic session 2007-08, School of Management, MIET has offered a two year full-time Master's Degree Programme in Business Administration (MBA) duly approved by the Govt. of J&K, AICTE and affiliated to the University of Jammu. The two-year programme establishes a foundation in fundamental business practices offering specialization in Finance, Marketing, Human Resource, Operations and Systems.
---
Outcomes of the programme
An MBA programme is a potential gateway to a rewarding corporate career in diverse domains or a high-impact entrepreneurial start-up or even forays into academia/social ventures. Budding managers who are desirous of success and winning irrespective of chosen career path should consider enrolling for MBA @ MIET. Prospective students who are willing to work extended hours in the quest for excellence are especially welcome to experience the best MBA programme in J&K.
---
Scope
The MBA Programme at MIET is characterized by a dynamic environment for budding managers. At MIET students are asked to pool in their talents, experience and dedication in an intensive two year "Transformation Programme". Students are also encouraged to challenge their assumptions, acquire new skills, examine unfamiliar possibilities, imagine opportunities and above all to assume responsibilities for themselves. Come and experience a refreshing unique take on management at MIET.
---
Highlights
Highly qualified, experienced & dedicated faculty.
Excellent infrastructure & facilities.
Visiting faculty from the industry & leading academic institutions.
Excellent Placement Services, with 90% placements achieved year-over-year (100% in 2015).
Invited Lecture Series providing platform for distinguished speakers to interact with students.
State-of-the-art computing facilities with wi-fi connectivity.
Fully automated library and subscription to quality online/ print journals.
AICTE sponsored Industry-Institute Partnership Cell(IIPC) and Enterpreneurship Development Cell (EDC) in place.
Regular Industrial tours & visits.
Value-Added programmes & personality development programmes on offer.
Membership of Confederation of Indian Industries (CII) for greater industrial opportunities.
MoU with MSME for Entrepreurship Development and Financial Support to MBA students.
100% students provided summer internships with leading Companies.
---
Placements
Providing excellent placement opportunities for MIET students is a prime objective of the placement cell. The cell strives hard to reach out to prospective employers and develop mutually beneficial linkages. The placement process is completely transparent, professionally managed and flexible in meeting the needs of the potential employers.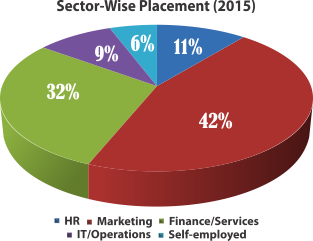 ---
MBA Faculty