---
Once students clear their class 12th examinations, it's time to face the competitive world. In the race of being number one, everyone aims at choosing a career option that offers them promising job opportunities. Keeping the same in mind, today, many students are selecting Commerce as a career option. However, before enrolling in the program, the students must have a clear idea of the benefits they can get from the same.
The Bachelor of Commerce (B.Com) offered by MIET is particularly a tailor-made program to meet the needs of the industry and the commerce. This course is designed to prepare students for the challenges in the global environment. And to provide them with a wide range of managerial skills while at the same time building competence in a particular area. The design and delivery of our program is innovative and unique. It carries a unique mix of Core, Skill-based and Elective Courses.
Core Courses- Our B.Com has industry-relevant, function-specific core courses making sure you hit the ground running with a heavy focus on business management research, industry personnel interaction with students and faculty, and the Harvard Business Case study method, we aim to bring experiential learning to the classroom.
Skill-Based Courses- Our program lays a lot of emphasis on skill based courses to equip you with the knowledge and skills necessary to effectively handle issues commonly encountered in day-to-day work life, and compete successfully.
Ability Enhancement Course- Our program lays emphasis on developing the ability to analyze the various business situations encountered in day-to-day life.
Elective Courses- The uniqueness of your program lies in the incorporation of business education with law, public policy, and international affairs, in addition to your specialization-specific elective. You have the opportunity of opting for a variety of subjects from other schools- flexibility that only a few universities in India offer.
A B.Com degree is structured to provide students with managerial skills in disciplines related to commerce. Also, by the end of the program, students gain in-depth knowledge of core subjects like accounting, law, statistics, finance, and marketing just to name a few.
---
Program Objectives
The Programme aims to make the students employable and self-employment-oriented (Self employable). It aims to make the students learn the writing and interpretation of books of accounts, be conversant with the financial and economic environment, and acquire the management skills required to manage the business.

The program includes imparting and developing oral and written communication, Information Technology, and statistical skills as well as legal knowledge. Considering the importance of self-employment, the program aims to develop and inculcate entrepreneurial skills among the students.

Overall the course aims to work on the enrolled students to make them more productive, self-reliant, and constructive for self and society's benefit.
---
Program Outcomes
1. Core Business Knowledge: Apply the knowledge of business administration, management skills, and tools acquired in the program, which will be helpful in bringing the organization's effectiveness.

2. Career Planning and Decision Making: Identify and excel in their chosen career paths and are able to emerge as efficient managers equipped with innovation, rationality, and application-oriented decision-making in the context of the ever-changing business environment.

3. Critical Thinking and Leadership: Able to reflect upon and explore business and research problems in-depth, demonstrate leadership skills, and demonstrate the ability to pursue new knowledge necessary to succeed in dynamic domestic and international business environments.

4. Team Building and Communication: Communicate effectively and perform different roles efficiently as an individual or in a team in multi-disciplinary streams with an entrepreneurial edge.

5. Application of Statistical and Analytical Tools: Apply the knowledge of contemporary issues and develop an art of using the latest techniques, skills, and necessary analytical tools for managerial practices.

6. Lifelong Learning: Recognize the need for and have the preparation and ability to engage in independent and lifelong learning in the broader context of technological change.
---
Pedagogy
Commercial enterprises today are looking for individuals to take up responsibility at entry levels, who are not only flexible and adaptive to the volatile business environment but sensitive enough to respond to the challenges being offered in an increasingly competitive global environment. The B.COM program at MIET has been tailor made to fill in this need.
Through a practical approach towards the syllabus, guided by the faculty from the industry itself, students are prepared for the real corporate world. Innovative methods of teaching to give more of practical exposure consisting of activity-based learning -
Group Discussions, Case Study, Simulation Exercises, Experiential Learning
Webinar – Interactive Learning Session Using ICT.
Industrial visits
Submission of assignments on Current Topics as part of Knowledge & Skill enhancement.
Presentations on Current Affairs and Policy Changes.
Organizing Guest Lectures.
Organizing Fest
Intra-department competitions
Participating in National Level fests organized by other institutions
Encouraging students to make PowerPoint Presentations on selected topics, recent trends in Commerce, Industry and Economy, International Business, etc.
---
Pedagogical Practices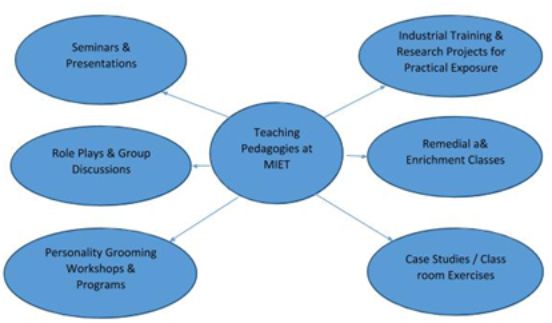 ---
Ready for both corporate employment and entrepreneurship
A student holding a B.Com Degree is well prepared to sustain as a corporate employee or as an entrepreneur. The student has adequate knowledge of adapting to the changes in the flexible business world, can focus internationally and has an in-depth understanding of the business world's market-relevant aspects. On the other hand, if the student chooses to start his/her own business, he/she can run it successfully and professionally without having to pay to expert accountants or market consultants.
---
Promising career
1) High employment: Students of B.Com can certainly expect high employment opportunities as today every business needs a commerce specialist or an accountant to run the business successfully. B.Com students have a good understanding of how the financial aspects of a business need to be managed. There is never a shortage of jobs in this field.
2) Career prospects: A B.Com student can explore numerous career options after obtaining the degree. Looking for career prospects in the interdisciplinary domains of commerce can provide excellent job opportunities. Students can look for career prospect in the following domains.
Banking

Company Secretary

Chartered Accountancy

Economics

Cost Work and Accountancy

Stock Broking

Agricultural Economics
---
Admission Procedure
Plz visit the link given below for the detailed Admission Procedure
---
Job profiles after B.Com
Accountant
Accountant Executive
Tax Auditor
Finance Manager
Cost Accountant
Finance Analyst
Finance Planner
Portfolio Manager
Statistician
Economist
Investment Analyst
Finance Controller
Finance Consultant
Stock Broker
Tax Consultant
Auditor
---
B.Com Faculty