Introducing the MIET Anthem: "Josh, Jazba, Junoon"
a powerful rap that encapsulates the core values and philosophy of MIET students, while delivering an incredibly motivating message to inspire you all! ?
This anthem celebrates the relentless spirit of MIETians, their commitment to excellence, and their unwavering determination to achieve greatness with core values
SHRESTHA, SHRAM & NAVEENTA
Keep Rocking!
#MIETRapAnthem #JoshJazbaJunoon #MIET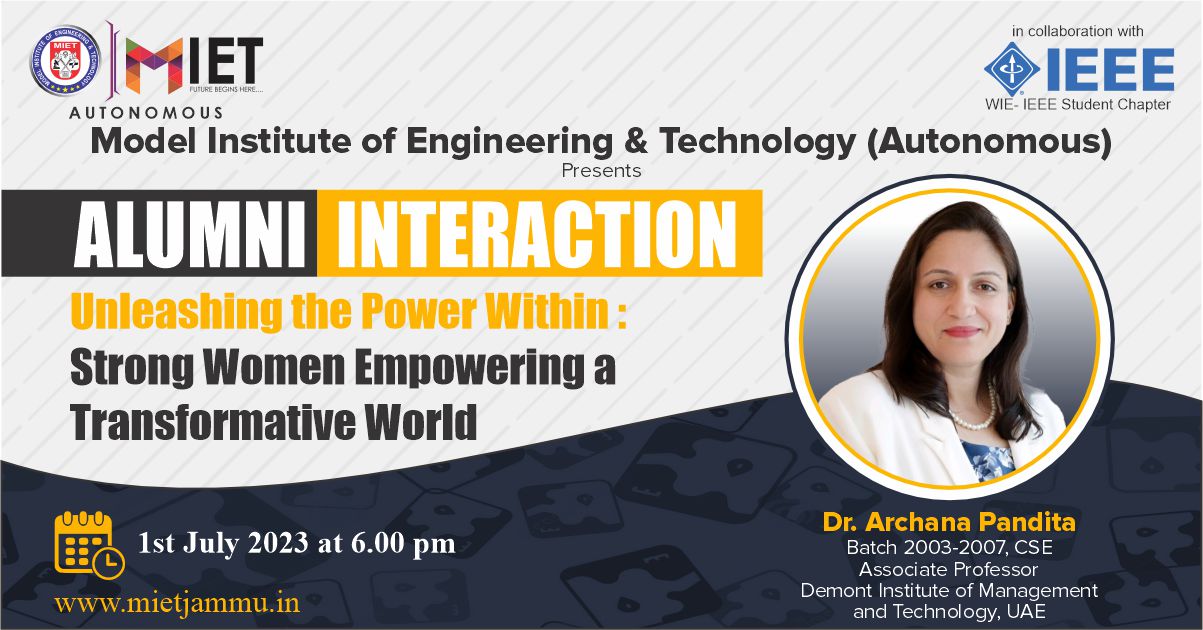 The WIE and IEEE Student Branch at MIET, Jammu organized an alumni interaction for the 2nd semester and 4th semester ECE & CSE students on 1st July 2023 at 6 pm in online mode. The theme of the lecture was Unleashing the Power Within - Strong Women Empowering a Transformative World. The speaker of the event was

Dr

.

Archana

Pandita, Batch (2003-2007) IT Dept, currently an Associate Professor, at Demont Institute of Management and Technology, UAE.
The speaker addressed the audience about the highlights of the celebration of women in engineering. The speaker acknowledged the remarkable accomplishments of women in this field and emphasized the pivotal role of education in empowering them. The report explored the achievements of extraordinary women who have significantly contributed to engineering and highlighted the diverse perspectives they bring to the education system. The speaker also discussed the challenges faced by women in engineering and presented a compelling business case that underscored the importance of support and collaboration for women to thrive. She also shared personal experiences to shed light on the daily struggles and empowerment of women in engineering. The speaker concluded by emphasizing the need for a supportive and inclusive environment to foster the success and growth of women in this field.
Celebrating Creativity and Wellness: Successful Poster-Making Competition on International
Yoga
Day
The second event conducted under the series of events for International
Yoga
Day
was the Poster Making Competition organized by the Cultural and Co-curricular Activities Committee and NSS unit.
We are thrilled to share the remarkable success of the Poster Making Competition held on the eve of International
Yoga
Day
! The event brought together 30 participants of different
Departments, united by their enthusiasm for art and their dedication to promoting the holistic benefits of
yoga
. With creativity as the driving force, the competition turned out to be an incredible platform for showcasing artistic skills and spreading awareness about the profound impact of
yoga
on our lives.
The event witnessed an overwhelming response, with individuals from various backgrounds showcasing their artistic talents. The theme of the competition revolved around the essence of
yoga
, emphasizing its ability to harmonize the mind, body, and spirit.
As the participants delved into their artistic expressions, the atmosphere buzzed with positive energy and a sense of unity. Each stroke of the brush and every color chosen conveyed the profound impact of
yoga
on personal growth, physical well-being, and mental serenity. The posters depicted a wide array of
yoga
postures, meditation scenes, and inspiring quotes, reflecting the diverse interpretations of this ancient practice.