---
In a highly complex and competitive world, graduates need to have employable skills to get the best jobs. Though graduation may seem distant at the start of the program, it is wise to plan early. With that in mind, the academic leadership at MIET hasdesigned its undergraduate Bachelor of Business Administration (BBA) program to focus on skills like critical thinking and global agility, without compromising on technical knowledge.
BBA is an undergraduate degree which equips the students with professional management qualifications leading to acquiring leadership roles .The three-year BBA Degree programme at MIET is designed to give you a global business management perspective through a unique pedagogy of learning and interaction among peers. Today's global economy rewards people who can traverse borders, understand cultures and operate in international context. With industry focus, this programme aims to make you proficient in using software tools, processes and best practices that they will need to get jobs in the industry. The design and delivery of our program is innovative and unique. It carries a unique mix of Core, Skill-based and Elective Courses.
---
Core Courses
Our BBA has industry relevant, function specific core courses making sure you hit the ground running from 1 day of your career. With heavy focus on business management research, industry personnel interaction with students and faculty and Harvard Business Case study method, we aim to bring experiential learning to the classroom.
---
Skill Based Courses
Our program lays a lot of emphasis on skill based courses to equip you with the knowledge and skills necessary to effectively handle issues commonly encountered in day to day work life, and compete successfully.
---
Elective Courses
The uniqueness of your program lies in the amalgamation of business education with law, public policy and international affairs, in addition to your specialization-specific elective. You have the opportunity of opting for a variety of subjects from other schools- a flexibility which only a few universities in India offer.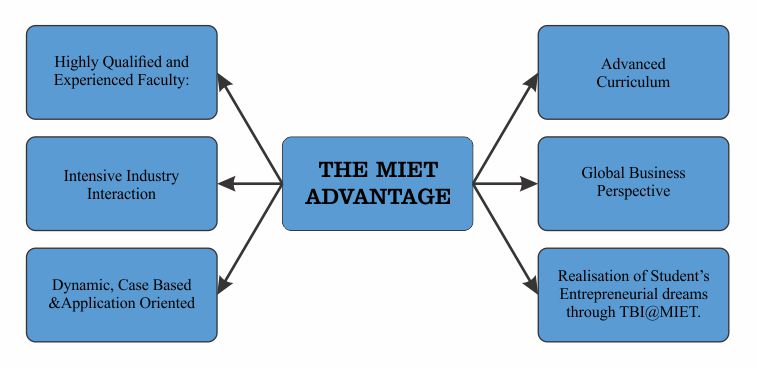 ---
The salient features of the BBA Program at MIET
BBA program provides an opportunity to acquire professional skills, develop leadership, communication skills, critical thinking and decision making abilities. The program prepares students for a lucrative entry-level managerial roles.
Application oriented learning with emphasis on solution generation through case study methodology

Clearly defined outcomes in each course ensure lifelong learning and placement readiness.

Courses are mapped with emerging opportunities in the corporate world.

Faculty led teaching supplemented by experiential and self-learning.

Focus on live projects

Focus on skill development

Frequent value added lectures from industry professionals.

Helps you in developing a good foundation of management knowledge.

Industry relevant specialisation courses ensure employability.

Learning by doing at the mandatory Corporate Internships.

Use of Massive Open Online Courses (MOOCs)

Webinars.

Professional guidance from industry mentors.

Smart and interactive classrooms infrastructure
---
Intake
Merit-based - 51

Management quota - 09
---
Admission Procedure
Plz visit the link given below for the detailed Admission Procedure
---
Career Opportunities after BBA
The program prepares you to take up various roles such as:
Accountant

Financial Analyst

Accounts Manager

Customer Support Executive

Relationship Manager

Account Process Executive

Corporate Sales Executive
---
Pedagogy
Commercial enterprises today are looking for individuals to take up responsibility at entry levels, who are not only flexible and adaptive to the volatile business environment but sensitive enough to respond to the challenges being offered in an increasingly competitive global environment. The BBA program at MIET has been tailor-made to fill in this need.
Through a practical approach towards the syllabus, guided by the faculty from the industry itself, students are prepared for the real corporate world. Innovative methods of teaching to give more of practical exposure consisting of activity based learnings:
Role Play, Group Discussions, Case Studies, Simulation Exercises, Experiential Learning

Webinar – Interactive Learning Session Using ICT.

Feet on street

Industrial visits

Entrepreneurship mela

Submission of assignments on Current Topics as part of Knowledge & Skill enhancement.

Presentations on Current Affairs and Policy Changes.

Organizing Guest Lectures.

Organizing Management Fest

Intra-department competitions

Participating in National Level Management fests organized by other institutions

Encouraging students to make PowerPoint Presentations on selected topics, recent trends in Management, Industry and Economy, International Business, etc.

Dedicated Quiz hour within the timetable to organize business quizzes and to discuss current affairs.
---
Program Objectives
To provide high quality professional education to management students.

To prepare students to meet the managerial challenges of the Business world.

To focus on the holistic development of the student with conceptual clarity, analytical ability, critical thinking and communication skills.

To prepare young minds with a positive attitude for excellent performance and committed service.

To facilitate the entrepreneurial journey of students by providing them with the breadth and depth of knowledge required to start a business.

To develop management professionals who are able to leverage theoretical knowledge to design sustainable solutions to real world problems.
---
Program Outcomes
Core Business Knowledge: Able to synthesize the knowledge, management skills, and tools acquired in the program, which will be helpful to bring the organization's effectiveness.

Career Planning and Decision Making: Able to excel in their chosen career paths, by learning how to live, adapt and manage business environmental change through decision-making.

Critical Thinking and Leadership: Able to reflect upon and explore business and research problems in depth, demonstrate leadership skills, and demonstrate the ability to pursue new knowledge necessary to succeed in dynamic domestic and international business environments.

Team Building and Communication: Able to communicate effectively and to perform different roles efficiently as an individual or in a team in multi-disciplinary streams with an entrepreneurial edge.

Application of Statistical and Analytical tools: Able to gain knowledge of contemporary issues and develops an art of using the latest techniques, skills, and necessary analytical tools for managerial practice.

Life-Long Learning: Recognize the need for and have the preparation and ability to engage in independent and life-long learning in the broader context of technological change.
---
Duration of the Course
The course is divided into six semesters over a three-year period.
---
Medium of Instruction
The medium of Instruction and Examination shall be in English.
---
Attendance
A student shall be considered to have satisfied the requirement of attendance for the semester, if he/she has a minimum of 75% attendance in each of the subjects, failing which the student will not be allowed to take up the End Semester Examination.
---
Dress code
The students are expected to conform to the dress code specified by the college management. BBA students are required to dress up formally and must be in their formal uniform for all formal occasions and whenever they represent the college.
Students will carry their Identity Cards at all times.
---
BBA Faculty