---
ABOUT Authorized Training Centre MIET, Jammu
In the endeavour to bridge the gap between academia and industry MIET and Mitsubishi Electric India Private Limited, a global manufacturer of Electrical & Electronic equipment have established a FA Authorized Training Centre (ATC) at the Department of Electronics & Communication and Electrical Engineering, MIET with the cost of Two Cr. (Approx.). The Mitsubishi Electric FA Lab is the first and exclusive industry-driven centre of excellence in the state of J&K in the domain of industrial automation. The Lab is set up with a specific mandate to create awareness and develop industry-relevant skills on the latest equipment and software. Under this collaboration, MEI has supplied high-end automation equipment with all accessories including high-end software for the simulation/programming of the equipment to MIET. The training equipment includes the Mitsubishi Electric iQ-R PLC-based FA training kit comprising HMI, VFD, Servo and FX PLC with HMI training kit iQ Platform software (engineering software) with simulation accessories. The objective of this ATC is to conduct an Industrial Training program on PLC, HMI, and SCADA robotic Programming courses on the advanced level of Industrial Automation to students from engineering.


ABOUT TRAINING COURSES
These training courses are designed to build skills in such a manner that upon completion of the course, the student will have the skills needed to design and implement new ideas and schemes in industrial automation. The course starts with basics of industrial automation systems, covering advance concept of hardware, software and architecture of modular automation system along with hands-on training sessions on PLC, sensors, GOT 2000 (HMI), Robotic Arm with Integrated Hydraulic, VFD, Servo Systems and SCADA in Industrial automation. It also covers Ladder Logic, functional blocks, input/output (I/O) ports and explains all basic, standard and custom functions and capabilities of a PLC, HMI, Robotic Systems, SCADA components involved in automation.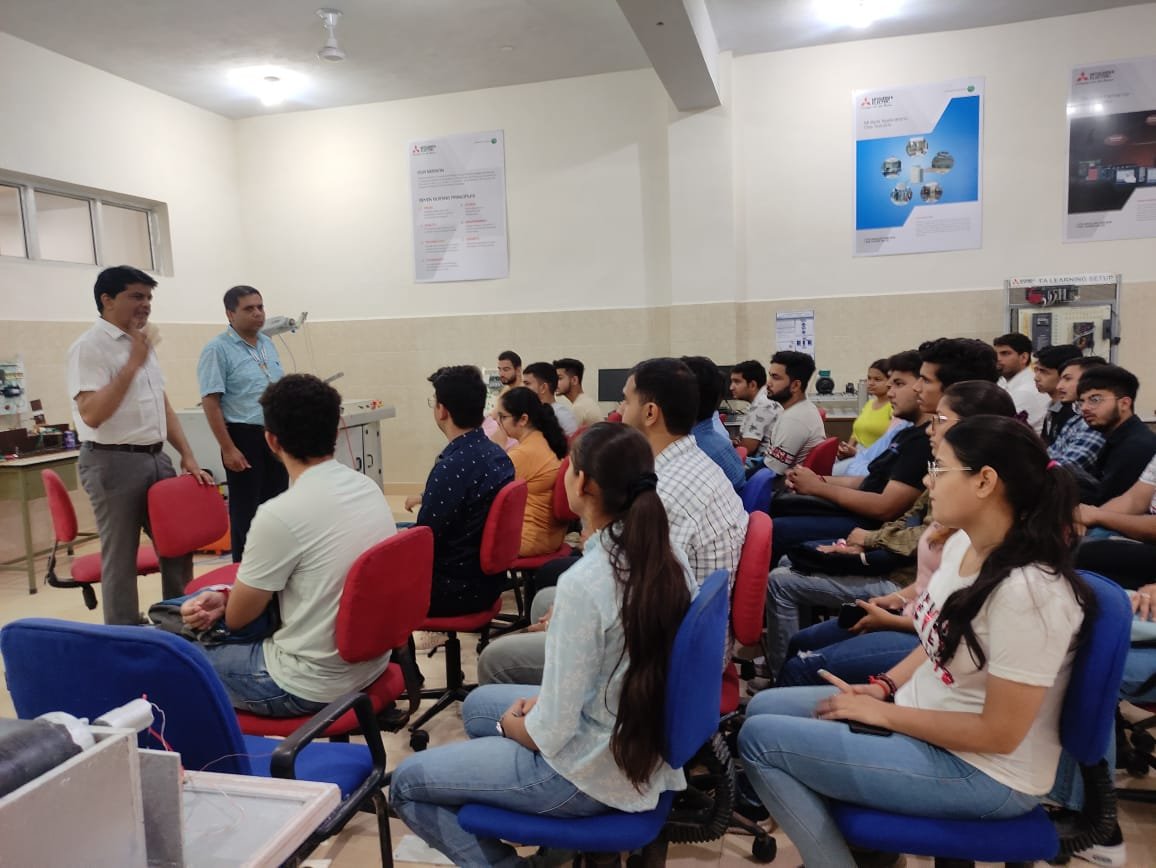 TRAINING OUTCOMES
Design and build PLC ladder programming on their personal computers.

Design ladder logic, functional blocks and implementation in GX works3 environment.

Design and build PLC logic in the domain of automation field.

Analyze and synthesize the problems with their solution with the help of various types of software for various PLC & automation components.

Analyze the industrial problems and provide their solution.

Familiarize with the concept of HMI and able to control the process using GOT2000 GT designer.

Describe working of servo systems and set up its communication with logic controllers.

Use various Servo and PLC function like master and slave mode control.

Interface PLC to the other systems, like sensors and electrical actuators, conveyor systems, HMI, SCADA Robotic systems.

Operate SCADA system for monitoring and controlling purpose.

Control and operates Robotic Arm.