---
MIET and the School of Computing and Engineering (CSE) at the University of Missouri-Kansas City, USA in 2014 signed a historic MoU rolling out a special admissions and benefits programme for MIET students along with collaborative R&D activities.



MIET Leadership Team posing with Prof. Kevin Z. Truman, Vice Provost and Dean School of Computing and Engineering, UMKC, USA and Prof. Kami Thomas, Bloch School of Management, UMKC during their visit to MIET
---
Direct Admission to UMKC MS Programme in CSE
MIET students, who maintain a certain percentage in their core engineering courses, are eligible for admission to the related MS programmes at UMKC without having to take GRE examination which is otherwise mandatory for pursuing higher education in the US. The students shall receive a special scholarship with up to 50% waiver of tuition fee.
---
Current Students admitted under this MoU

Adirath Kapoor and Nitin Bhandari from CSE dept. (2012-16 batch) became the first students from MIET to get direct admission to MS programme at UMKC, USA under the MoU.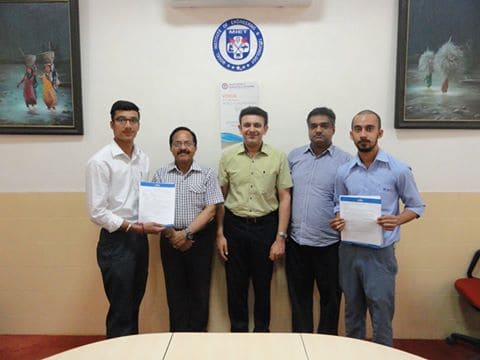 ---
MBA Programme
MIET students can also opt for pursuing management programmes at the Henry Bloch School of Management which is a top-ranked B-School in the US. Interested Students will have to take the GMAT exam and get assured scholarships for the programme.
---
Research Workshops
Under the MoU, Prof. Vijay Kumar, Curator's Professor of Computer Science at UMKC, has conducted 3 advanced research workshops for MIET faculty in the last 3 years in the domains of cloud computing, cyber security, and mobile computing. The Department of CSE is actively engaged research work in these domains.

---
International Journal of Next-Generation Computing (IJNGC)
MIET in Collaboration with UMKC jointly started the publishing of International Journal of Next-Generation Computing (IJNGC), a peer-reviewed journal aimed at providing a platform for researchers to showcase and disseminate high-quality research in the domain of next-generation computing. With the introduction of new computing paradigms such as cloud computing, IJNGC promises to be a high-quality and highly competitive dissemination forum for new ideas, technology focus, research results and discussions in these areas. The Journal was selected for indexing in the Emerging Sources Citation Index (ESCI) by Thomson Reuters under the Web of Science offering. IJNGC is one of the few computer science journals from India to be selected for indexing in ESCI. MIET is the only technical institution in J&K to publish a high-quality international research journal with a high-profile editorial board comprising Professors from the leading international universities across the world (http://ijngc.perpetualinnovation.net)