The School of Law at MIET is the first law school in the UT of J&K, to offer BBA-LLB (Hons) to cater to the rising demand for skilled legal & paralegals. Manned by highly qualified, committed, and dynamic faculty and staff, the School of Law will emerge as the leading law school in the region in terms of education, training, and development of students thereby fostering an understanding of law and business, at a global perspective.
---
Vision
To become a world-class School of Law with Demonstrated Excellence in Teaching, Research, Innovation, and Consultancy.
Mission
To impart high-quality instruction in legal and business studies, equipping students with fundamental knowledge and skills to address real-world challenges in emerging domains.
To integrate academics, research, innovation, and entrepreneurship to create significant value for all stakeholders.
To develop meaningful linkages with world-class organizations to constantly enhance capacity and capability.
---
Program Outcomes (POs)
Core Business Knowledge: Able to synthesize the knowledge, management skills, and tools acquired in the program, which will be helpful to bring the organization's effectiveness.

Career Planning and Decision Making: Able to excel in their chosen career paths, by learning how to live, adapt and manage business environmental change through decision-making.

Critical Thinking and Leadership: Able to reflect upon and explore business and research problems in depth, demonstrate leadership skills, and demonstrate the ability to pursue new knowledge necessary to succeed in dynamic domestic and international business environments.

Team Building and Communication: Able to communicate effectively and to perform different roles efficiently as an individual or in a team in multi-disciplinary streams with an entrepreneurial edge.

Application of Statistical and Analytical tools: Able to gain knowledge of contemporary issues and develops an art of using the latest techniques, skills, and necessary analytical tools for managerial practice.

Life-Long Learning: Recognize the need for and have the preparation and ability to engage in independent and life-long learning in the broader context of technological change.
---
Program-Specific Outcomes (PSOs)
PSO-1: Demonstrate Knowledge: To produce graduates having a strong background of basic understanding of substantive and procedural law sufficient to enter the legal profession in which legal knowledge is an advantage.
PSO-2: Drafting, Counselling, and Negotiation: To produce graduates possessing the skills to communicate in both oral and written forms and use appropriate concepts and methods to develop the skill of drafting or art of framing various complaints, petitions, writs, letters, using proper Legal English format with clarity.
PSO-3: Building Professionalism: To produce graduates that comprehend the standards of conduct involved in the practice of law and demonstrate the values of the legal profession. This inculcates ethical responsibilities towards clients in a legal system.
PSO4-: Development of Interpersonal Skills: To produce graduates that advance the aptitude to analyze, synthesize and disseminate a large amount of complex information comprising legal and non-legal aspects of the working of the entire system.
PSO-5: Effective Citizenship: To produce graduates that inculcate values of Rights and Duties and transfer these values to real life through the legal and judicial process for promoting community welfare.
---
Specializations Offered
The BBA-LLB program offered by SOL MIET is designed as a highly flexible learner-centric Choice Based Credit System (CBCS) aligned with UGC and NEP guidelines and in compliance with BCI regulations. The school aims to foster a culture of scholarship and academic excellence among the students.

Following are the specializations offered at SOL MIET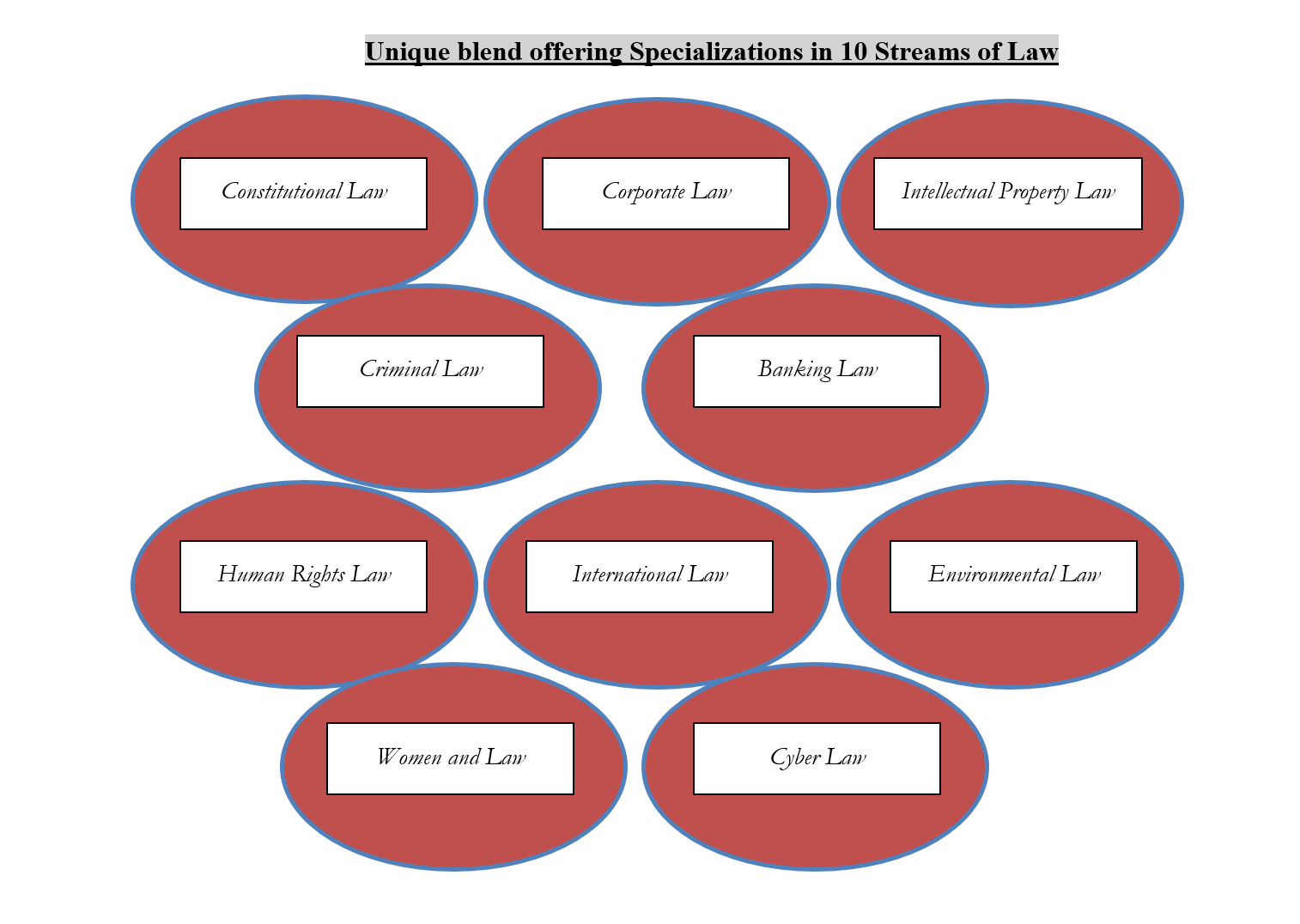 Our specialized tracks in law include:
Specialization in Constitutional Law
BBA- LLB with specialization in Constitutional law covers a range of domain-specific subjects such as the interpretation and understanding of the Indian Constitution, comparative federalism, and legislative relations. It draws extensively from Supreme Court rulings to uphold the relationships between state and federal governments and safeguard individual rights. By studying Constitutional Law, students develop a deeper understanding of the principles that form the foundation of a civilized society, enhancing their ability to become responsible and informed citizens.
Subjects which could be offered under this:
Legal Philosophy including the Theory of Justice
Making of the Indian Constitution
Indian Federalism
Fundamental Rights, Fundamental Duties and DPSPs
Centre-State Relations
Affirmative Action and Discriminative Justice
Comparative Constitution
Local Self Government including Panchayat Administration
Career Options with this Specialization

S.no

Professions

1

Constitutional Lawyer

2

Legal Consultant

3

Constitutional Law Professor

4

Public Policy Analyst

5

Legislative Consultant
Specialization in Corporate Law
The specialization of BBA-LLB in Corporate Law can be a beneficial choice if you are interested in pursuing a legal career with a focus on business and corporate matters. Corporate law is a specialized area of law that deals with the formation, operation, and governance of corporations, as well as the rights and responsibilities of corporate entities, shareholders, directors, and other stakeholders. The specialization would aid in developing a strong foundation that combines business acumen with legal expertise, making you well-equipped to handle legal matters within the corporate sector.
Subjects which could be offered under this:
Corporate Governance
Mergers and Acquisition
Securities Law
Corporate Finance
Corporate Contracts
Corporate Dispute Resolution
Competition Law
Law of Taxation
Career Options with this Specialization

S.no

Professions

1

Corporate Lawyer

2

In-House Counsel

3

Compliance Officer

4

Corporate Secretary

5

Legal Compliance Auditor
Specialization in Intellectual Property Law
BBA-LL.B program with a specialization in Intellectual Property Rights (IPR) equips students with a strong conceptual understanding of computer science and the legal principles related to intellectual property like trademarks, patents, and copyrights. It enables students to develop skills in the practices and procedures of Intellectual Property Law. The program includes a mix of non-law papers, core law subjects, and honors papers.
Subjects which could be offered under this:
Patent Right Creation and Registration
Patent Drafting and Specification Writing
IPR Management
Copyright
Trade Mark and Design
Trade Secret and Technology transfer
Other Forms of IPR creation and registration
IPR Litigation
IPR Transactions
Life Patent
Career Options with this Specialization

S.no

Professions

1

IP Lawyer

2

Intellectual Property Consultant

3

Patent Attorney

4

Copyright Specialist

5

IP Portfolio Manager

Our specialized tracks in management include:
Specialization in Finance
The BBA-LLB Hons program with a specialization in Finance offers students a strong foundation in financial management, investment strategies, and financial analysis. This specialization empowers students to make informed financial decisions, effectively manage budgets, and contribute to the economic success of organizations. The curriculum encompasses vital areas such as financial planning, risk management, capital markets, investment banking, and financial reporting.
Subjects which could be offered under this:
Financial Management
Corporate Finance
Financial Accounting
Managerial Accounting
Financial Derivatives
Career Options with this Specialization

S.no

Professions

1

Corporate Finance Manager

2

Financial Analyst

3

Investment Banker

4

Financial Planner

5

Financial Research Analyst
Specialization in Human Resources
The BBA-LLB Hons program with a specialization in Human Resources includes detailed knowledge about crucial HR areas such as recruitment, training, employee relations, and strategic HR planning. This specialization equips students with the skills to attract, retain, and motivate a talented workforce, leading to enhanced organizational performance. The curriculum encompasses subjects like talent management, performance appraisal, labor laws, organizational behavior, and HR analytics.
Subjects which could be offered under this:
Human Resource Management
Organizational Behavior
Employment Law
Compensation and Benefits Management
HR Strategy and Planning
Career Options with this Specialization

S.no

Professions

1

HR Manager

2

Talent Acquisition Specialist

3

Training and Development Specialist

4

Employee Relations Specialist

5

HR Data Analyst
Specialization in Marketing
The BBA-LLB Hons program with a specialization in Marketing acquaints students with the vibrant and ever-evolving world of marketing. The curriculum of this specialization includes subjects like digital marketing, advertising, product management, marketing analytics, and strategic marketing. Students cultivate the skills required to understand market research, consumer behavior, branding, and promotional strategies, design impactful marketing campaigns, comprehend customer needs, and fuel business growth.
Subjects which could be offered under this:
Marketing Management
Consumer Behavior
Digital Marketing
Product Development and Management
Marketing Analytics
Career Options with this Specialization

S.no

Professions

1

Marketing Manager

2

Digital Marketing Specialist

3

Brand Manager

4

Advertising Executive

5

Social Media Manager
Total Intake (120)
Open Merit: 102
Management quota Seats: 18
Eligibility Criteria
Applicants must have written JUET / CLAT / AILET / LSAT India/ AIBE or any other national-level test.
Obtained at least 50% marks (45% for SC/ST) or as specified by the competent regulatory body from time to time in the qualifying 10+2 examination.
A candidate appearing in the 10+2 final examination in March is eligible to seek admission to BBA LLB (Hons.) only if he/she furnishes documentary evidence in support of his/her having passed the qualifying examination in full on or before the 31st of July, or such other date as may be approved by the admission committee; failing which his/her candidature shall automatically stand cancelled and the seat thus becoming available shall be filled by the merit.
---
Admission Procedure:
All the candidates who have appeared in the 10+2 examination and are desirous of seeking admission to the BBA LLB (Hons.) program shall be required to fill out the application form on the below-given link. (Link)
The selection list of candidates is drawn strictly in order of merit of 10+2 conducted by the Central Board of Secondary Education or equivalent examination from a recognized board (IB/ICSE) and scores received in / AILET / LSAT India/ AIBE or any other national level test.
---
Document Checklist:
Matriculation or equivalent examination certificate
Marks certificate of 10+2 examination
Provisional Certificate/Degree issued by the School/University/Institution last attended (in original)
Category Certificate (If applicable) issued by the Competent Authority as per the latest SRO issued by the J&K Govt.
CLAT / AILET / LSAT India/ AIBE or any other national-level test scorecards.
---
Contact us at:
Model Institute of Engineering and Technology (Autonomous)
Permanently Affiliated to the University of Jammu, Accredited by NAAC with "A" Grade Kot Bhalwal, Jammu. For admission inquiries contact: 7889395696
Email us at [email protected]
---
BBA-LLB Faculty